Quick and Easy Smart Home Installations
Here at DPS, we offer a reliable and affordable Home automation installation process, based in Southend on Sea, but offering a service to the whole of Essex, with over 40 years within the industry, we have built a strong rapport with our clients. Having a Smart Home system installed can provide you with a balanced and enjoyable way of living. It is paramount that our customers are offered the best possible solution for both their home and business and this is why we make sure that the process of installation is as smooth and hassle-free as possible.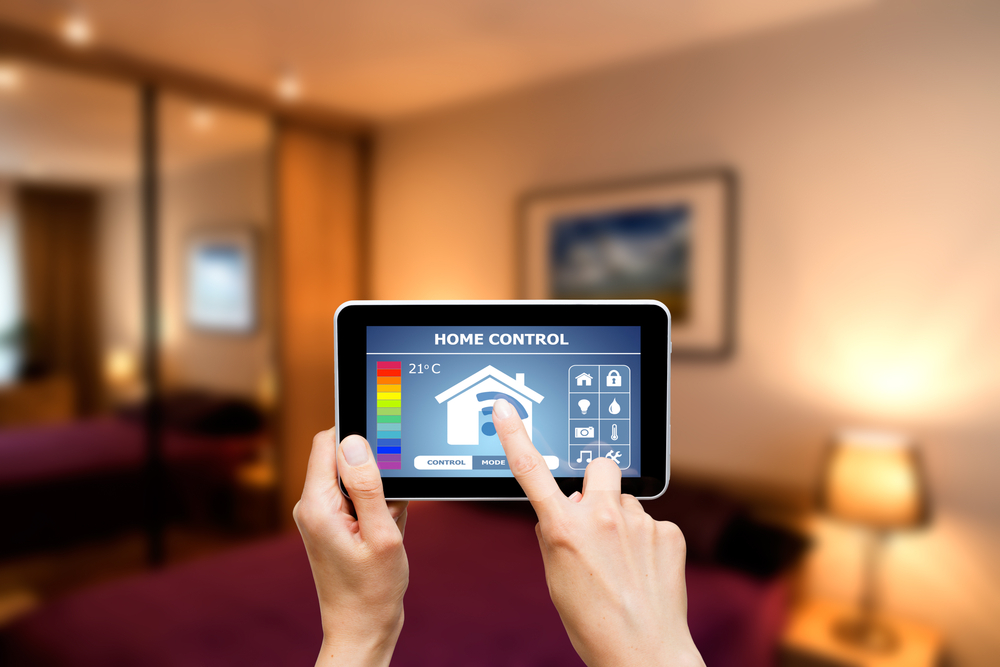 Control Your Home From Your Phone
Over the past few years, Smart Home systems have quickly become one of the must-have home technologies. By having a Smart Home System you can control your lights through a control panel. You can also have climate zone control installed to perfect the temperature throughout your property, even if you are not home. You are also able to add curtain and blind control for electric closings.
Smart Home systems can also be installed to control other electronics in your property such as your television, music systems and CCTV. Installing Smart Home systems in both your home or your business can put your mind at ease, no more panicking that you left the air con for a full day when you are at work or dreading coming home to a cold house in the depth of winter, Smart Home systems mean that you can get your property or office to the perfect temperature at the touch of a button from anywhere.
We Are LOXONE Silver Partners
Having a Smart Home installed is a fantastic way to control your home cinema and the audio system in your property. We can install all Smart Home systems that work with all types of smartphones and devices, such as iPhones, iPads and Android Smartphones. Whether you have Wi-Fi or are using your device through 3G, 4G and 5G, we have the ability to install a system that works throughout. Our LOXONE Qualified engineers will be able to give you a system tailored to you.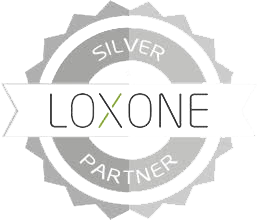 We can advise you on a variety of systems that suit you, no project is too small or too big, we can design and install something perfect for you. Having a Smart Home allows you to have a Smart thermostat installed which means you can control the temperature throughout your home with the touch of a button, or have Smart smoke and carbon monoxide detectors built into the system that alert you if your alarm is triggered and can run remote tests while away from your property. One of the leading selling points of installing Smart Home systems is the security aspect. Having a security camera within the vicinity of your property that can be accessed via your smartphone, with a built-in live feed function and two-way talk facility is a great way to feel safe, especially with having the ability to receive alerts straight to your device.
A Versatile Smart Home Solution
If you need a smart home system tailored towards your needs, feel free to discuss your project with us. Our smart home systems can offer you the following:
Heating
•Temperature and humidity monitoring
•Individual room control
•Intelligent learning
•Temperature is maintained when you're still in the room
•Frost Protection
•Statistics in the app
•Weekly schedule with holiday integration and custom calendar entries
•Optional maintenance reminders
•Notification of changes to the system
•Central monitoring and control of heating in the app
Security
•Presence-based burglar alarm
•Easy day and night arming options
•App notifications when something is amiss
•Lights can flash throughout your home when burglar alarm is triggered
•Delayed arming feature
•Multi-stage alarm
•History logs
•Optional panic buttons
•Central monitoring and control of burglar alarm in the app
Lighting
•Motion triggered lighting
•Lights turn off automatically when not needed
•Factors in natural light levels
•Lights stay on if noise is detected in that room
•Lights can mimic occupancy when you're out
•Conveniently switch off all lights from one switch when leaving your home
•Central monitoring and control of lighting in the app
Central Functions
•Night Mode
•All Out Mode
•Away Mode
•Operating Modes
•Room Off
One App For Everything
For smartphones, tablets, laptops and browsers. Whether it's to control light, heating, blinds, multiroom audio or your swimming pool. Control for smart homes, offices, restaurants and more has never been so intuitive and easy.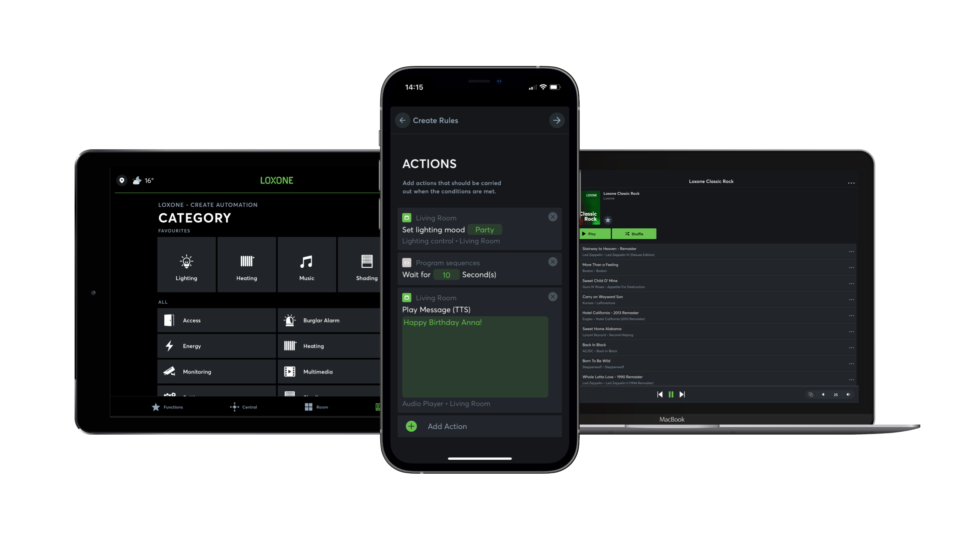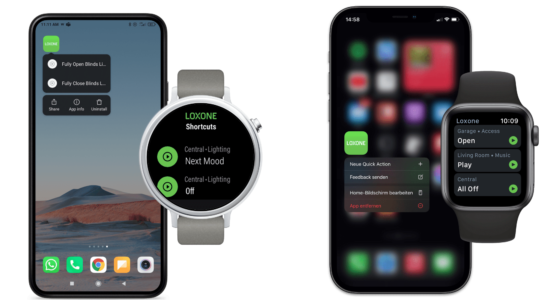 A Single App – To Control It All
A Loxone system provides unparalleled automation possibilities. That said, should you want to take control at any point, the intuitive Loxone App is all you need. From controlling the lighting and setting a heating schedule, to checking the state of the burglar alarm or controlling the multiroom audio. Whether you're using your smartphone on-the-go or an iPad permanently mounted in a thoroughfare – you'll have all the control in a single app.